Let's be honest, side dishes are the true stars of Thanksgiving. I load my plate up with mashed potatoes, green beans, and (two or three) dinner rolls. Every year, without fail. Thanksgiving is undoubtedly an indulgent meal, but it doesn't have to be unhealthy. When my older sister first had to make dietary changes, we had two separate Thanksgiving buffets: one that was gluten-free and vegan and another that was traditional. However, after lots of research and recipe tasting, we've landed on a menu with vegan Thanksgiving sides that the whole family drools over.
15 Vegan Thanksgiving Sides Everyone Will Love
This list is full of both classic and creative recipes for all of your favorite Thanksgiving sides that no one will even know are vegan. Because between potlucks, Friendsgiving celebrations, and all the many gatherings you'll host and attend this season, you're bound to encounter a friend or family member who will appreciate creamy mashed potatoes (sans the cream).  And here's my hot take: they might even be better than the real deal.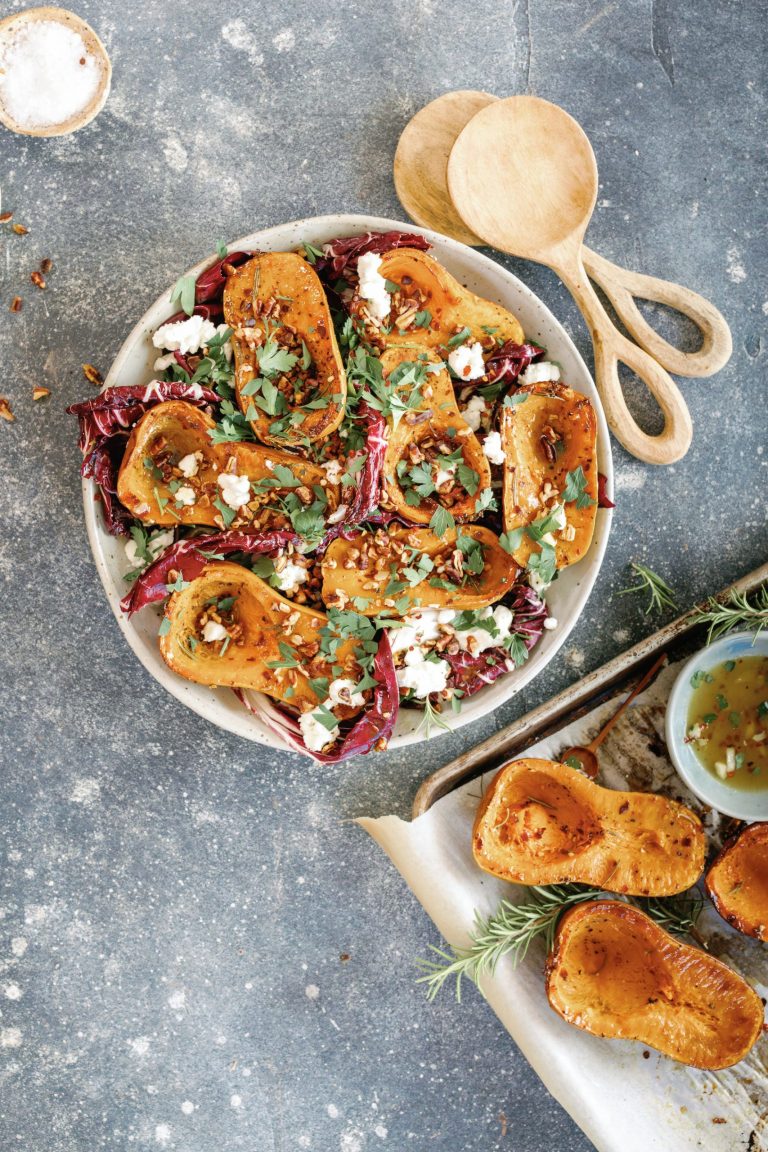 Roasted Honeynut Squash with Hot Honey, Pecans, and Rosemary
Why We Love It: If you're going for 'wow' factor in both presentation and taste, you have to make this side dish. Teeny and cute honeynut squash spends a little time in the oven getting caramelized and crisp. Layered on your favorite platter with radicchio, pecans, garlic, and honey (sub maple syrup to make it vegan), this recipe is my new Thanksgiving fave. Note: the recipe includes goat cheese, but you're welcome to sub in a dairy-free option or skip it entirely.
Hero Ingredient: I have a thing for squash, and honeynut is my new favorite. Seriously, have you ever seen anything cuter? And they're not just pretty to look at. As Camille notes, "Deep orange in color and slightly reminiscent of a mini butternut, the honeynut squash is packed with sweetness, nuttiness, and an undeniable charm that elevates any dish." Now doesn't that sound totally delish?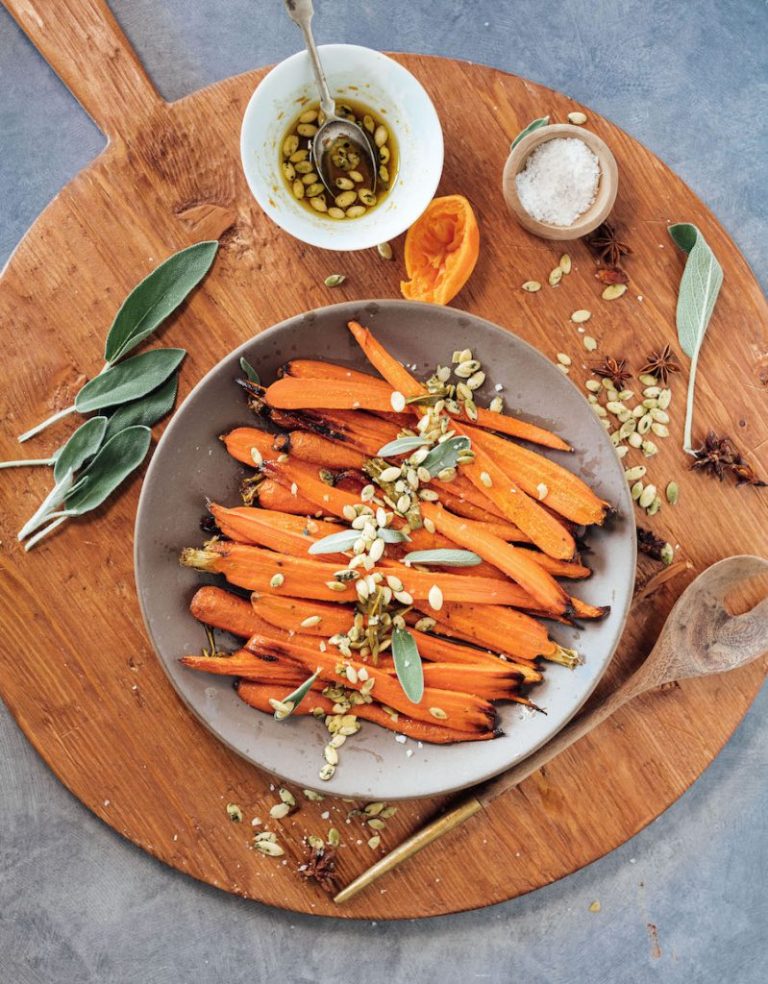 Honey Roasted Carrots With Spicy Citrus, Sage & Pepitas
Why We Love It: Even if you aren't a cooked carrot fan, this recipe might win you over with its secret sauce. It has the perfect balance of acidity, sweetness, and spice finished with fresh sage that gives it major autumn vibes. You can't say you don't like cooked carrots until you try this recipe. 
Hero Ingredient: The pan sauce, because it can be added to any fall veggie in your fridge.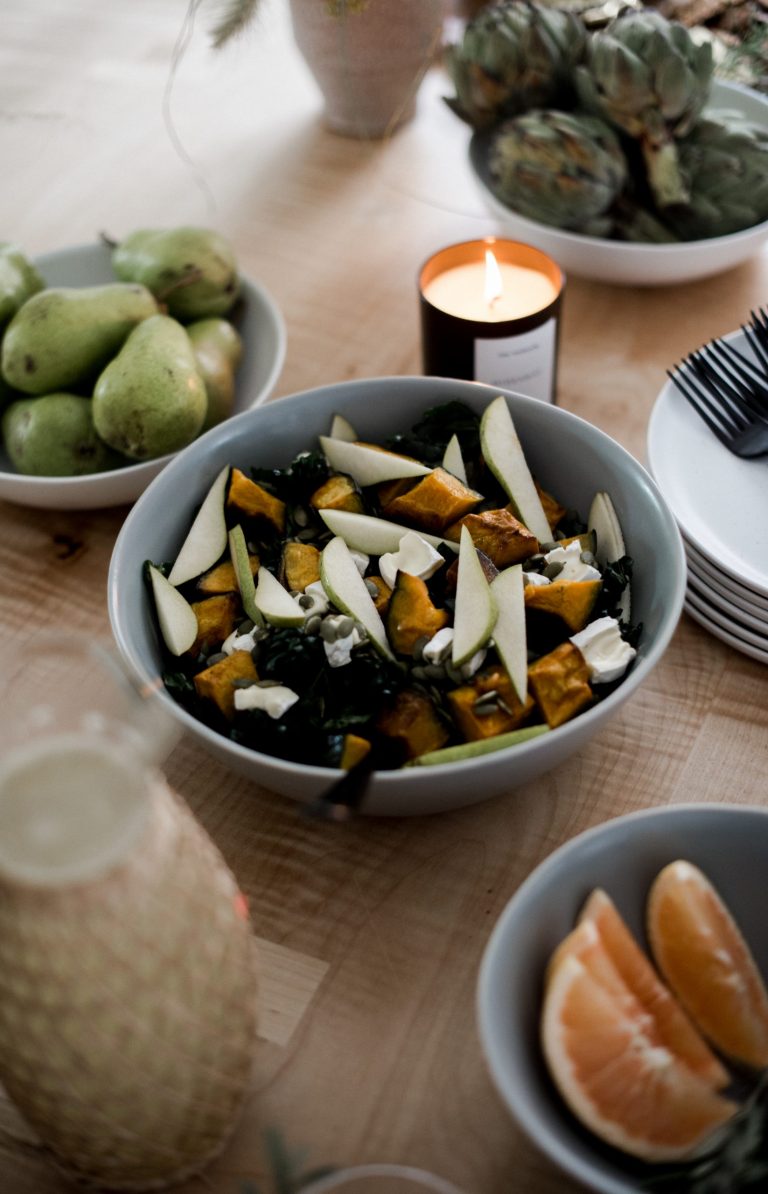 Harvest Kale Salad
Why We Love It: Both fall and winter's best ingredients shine in this side salad. It's made with a simple olive oil and lemon vinaigrette, and it might just be your new favorite Thanksgiving item. Served as a side or an appetizer, everyone can enjoy this recipe. Just be sure to ditch the brie or swap in a dairy-free alternative to keep it vegan.
Hero Ingredient: It's a toss-up between the pear and pepitas, but I'll go with the former—because during the colder months, it's my favorite fruit.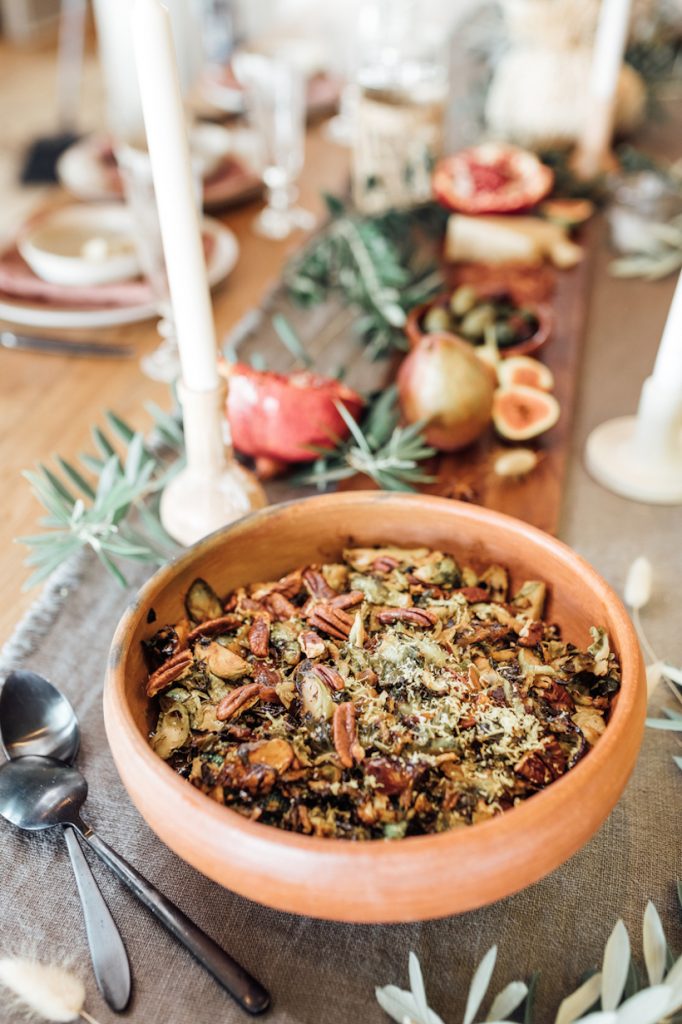 Sweet & Sour Cider-Glazed Brussels Sprouts with Dates & Pecans
Why We Love It: Instead of leaning on her typical method of roasting halved sprouts until crispy, Camille shreds these into thin little ruffly bites, then does a hard sear in a cast-iron skillet to get the perfect char. A quick toss in a sweet vinegar sauce with a secret ingredient (apple cider!) and a sprinkle of toasted pecans, dates, and chili flakes, and voilá. You have a killer vegan Thanksgiving side.
Hero Ingredient: Apple cider gives this dish major fall feels.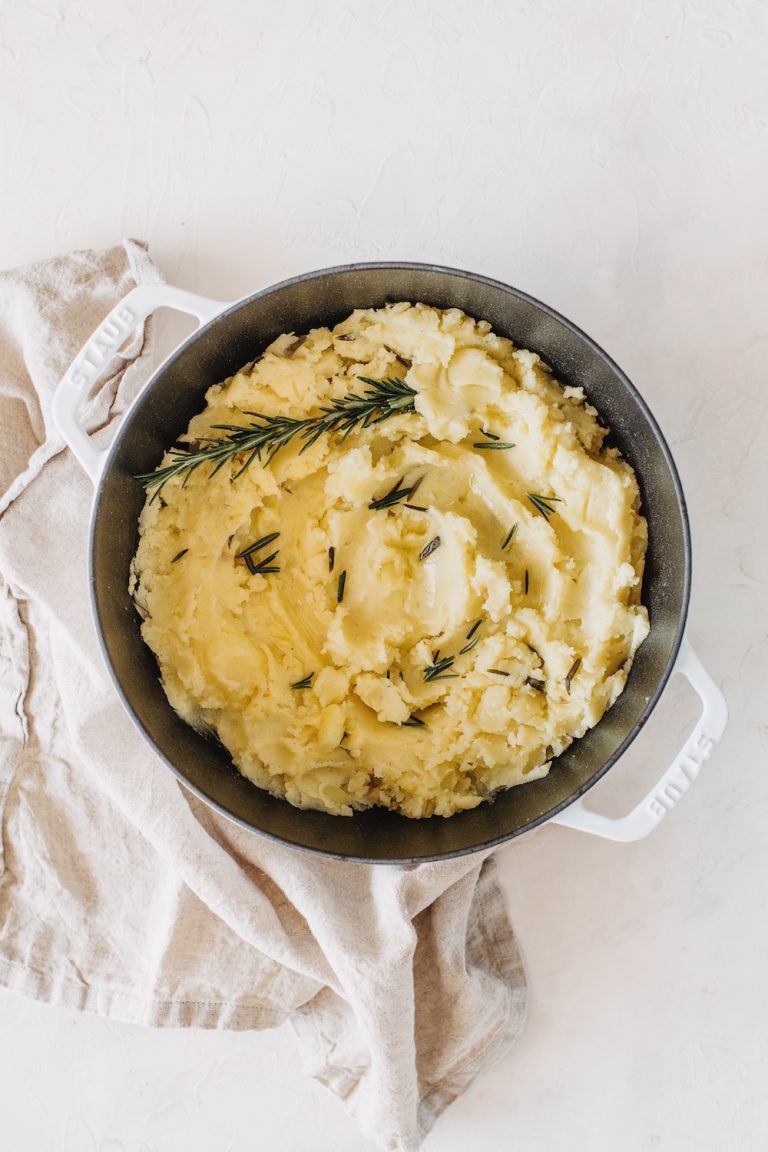 Make-Ahead Vegan Mashed Potatoes
Why We Love It: You had me at make-ahead, but vegan too? Incredible. If you're hosting the feast this holiday, these mashed potatoes are a must-make for your meal. With all of the craziness involved in cooking on Thanksgiving day, you'll be grateful for the extra stovetop space these taters free up.
Hero Ingredient: Rosemary is the flavor-packed star of this vegan show. I love the aromatic, peppery taste the herb imparts.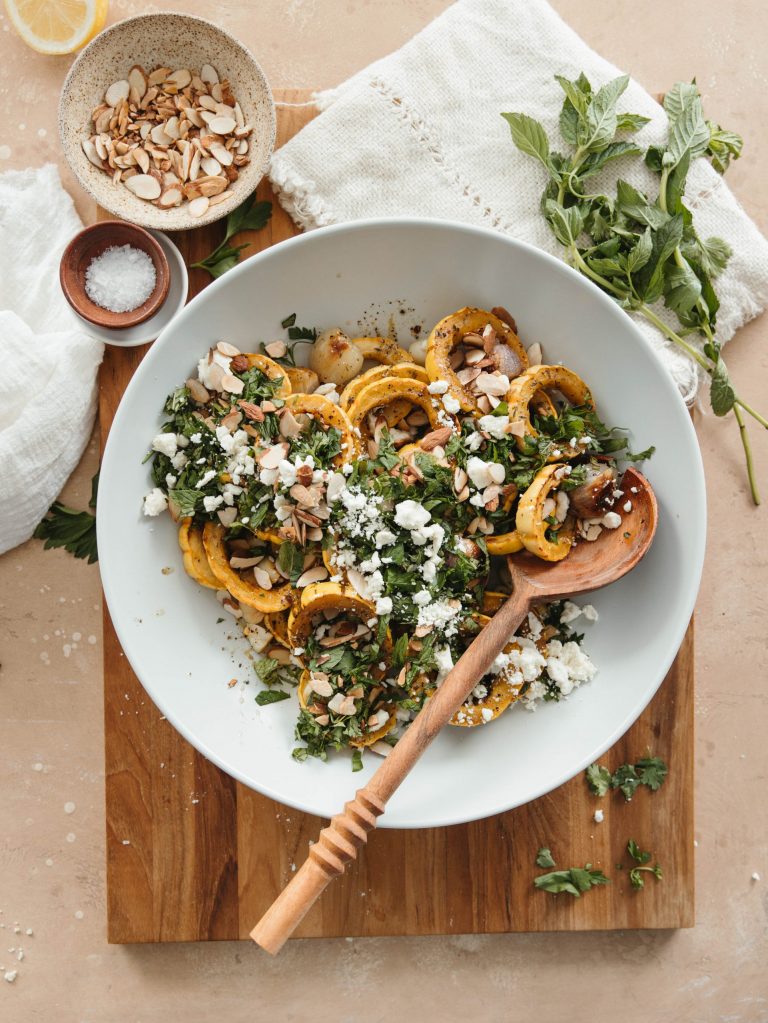 Roasted Delicata Squash
Why We Love It: Like some of the other sides in this roundup, you'll want to drop the crumbled feta and sub in maple syrup for honey to make it vegan. But beyond that, this no-fuss recipe comes together with ease and so much deliciousness. Delicata squash is seriously underrated, and it's a fave this season as it requires zero peeling on your part. (I can't say the same for butternut squash.) Key spices like cumin, coriander, and red chili powder help this recipe stand out, and thyme ties it all together beautifully. Points for gorgeous presentation, too.
Hero Ingredient: All the herbs, please. Cilantro, mint, and parsley are the trifecta of fresh flavor.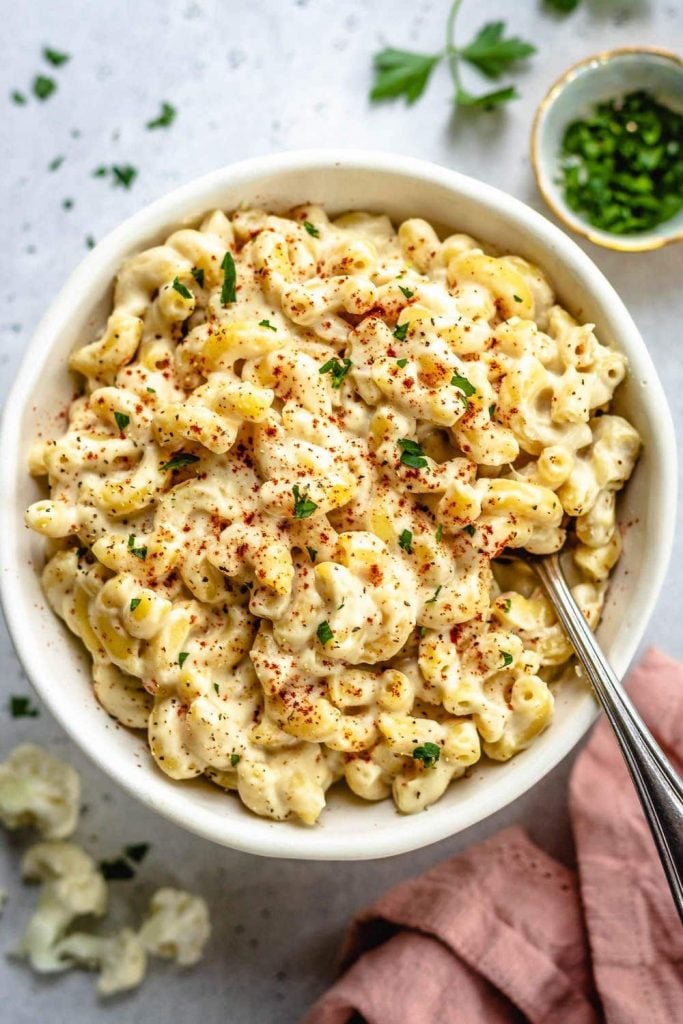 Vegan Cauliflower Mac & Cheese
Why We Love It: Do you have mac and cheese at Thanksgiving? My family doesn't, but this recipe makes me wish we did. I could seriously eat it every day. The dish comes together in 20 minutes and is made with an easy thick and velvety vegan cauliflower cheese sauce poured over macaroni noodles (which can easily be subbed for gluten-free pasta). 
Hero Ingredient: Cauliflower is a chameleon.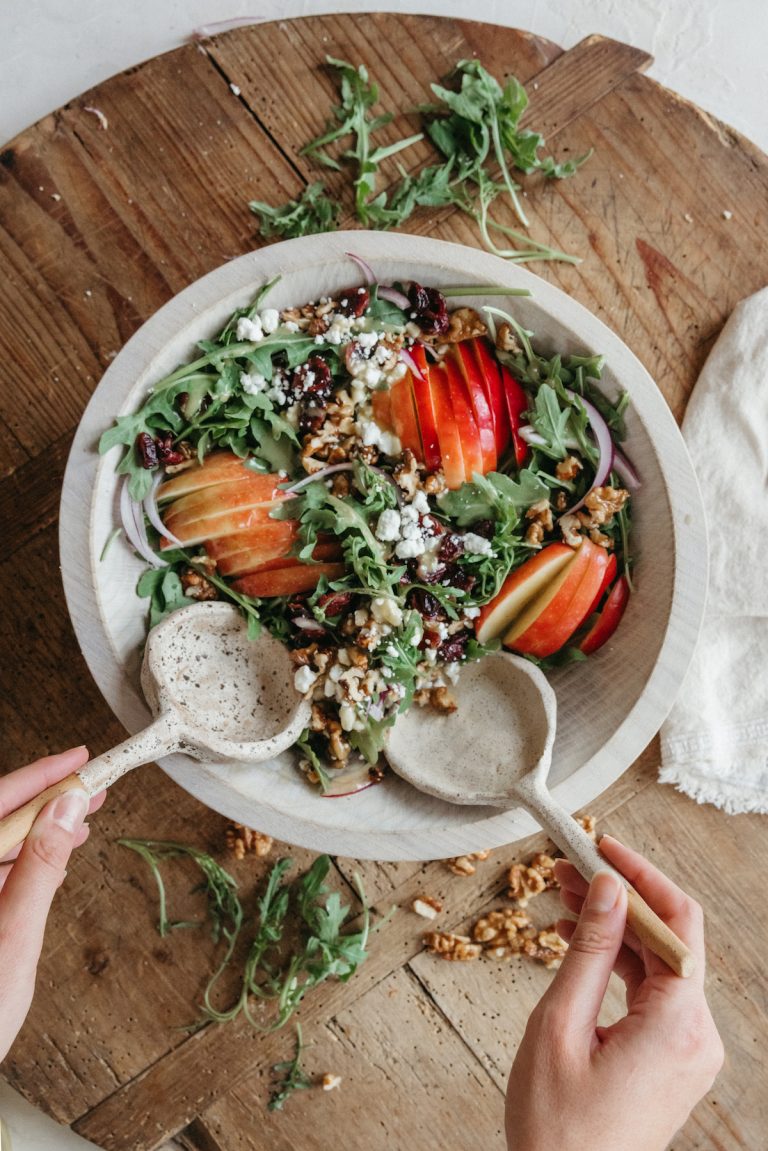 Apple Walnut Salad
Why We Love It: This fall salad is so simple, but it's the focus on minimal, flavorful ingredients that helps it shine. I love the peppery bite of arugula paired with crisp, thinly sliced apples. Drop the goat cheese to make it vegan, or make the most of my favorite dairy-free recipe that couldn't be easier.
Hero Ingredient: As they say, an apple a day—and this salad is my favorite way to get my fill.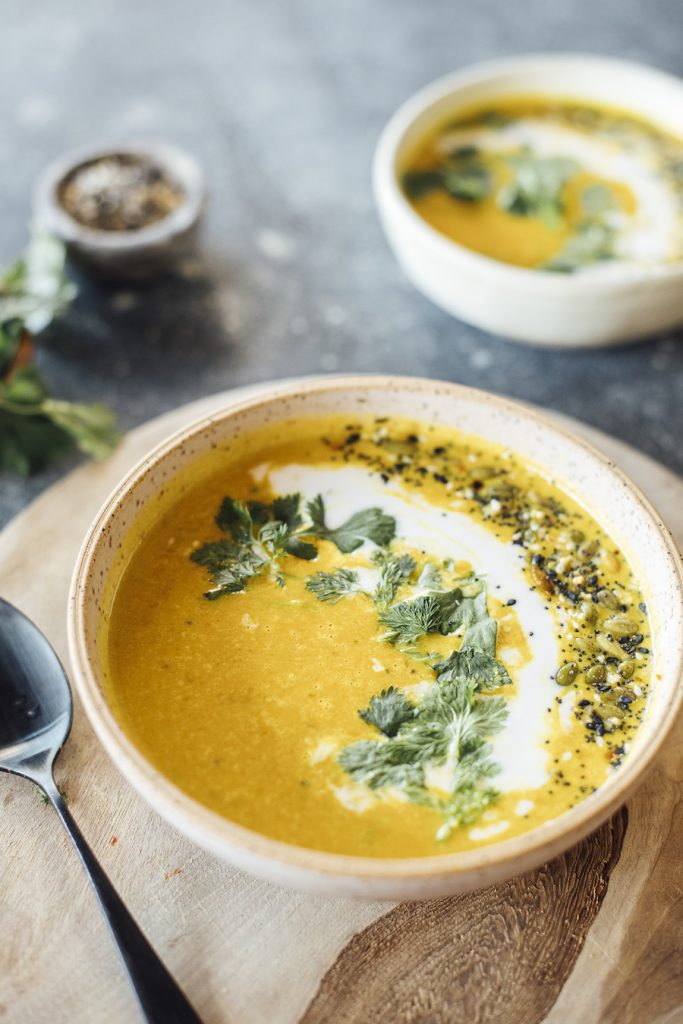 Vegan Butternut Squash Soup
Why We Love It: Soup might not be the most traditional Thanksgiving dish, but this vegan butternut squash soup pairs perfectly with the meal. It's healthy, but it has so much flavor that you won't even care. 
Hero Ingredient: Coconut milk makes this soup so comforting and creamy (without the cream).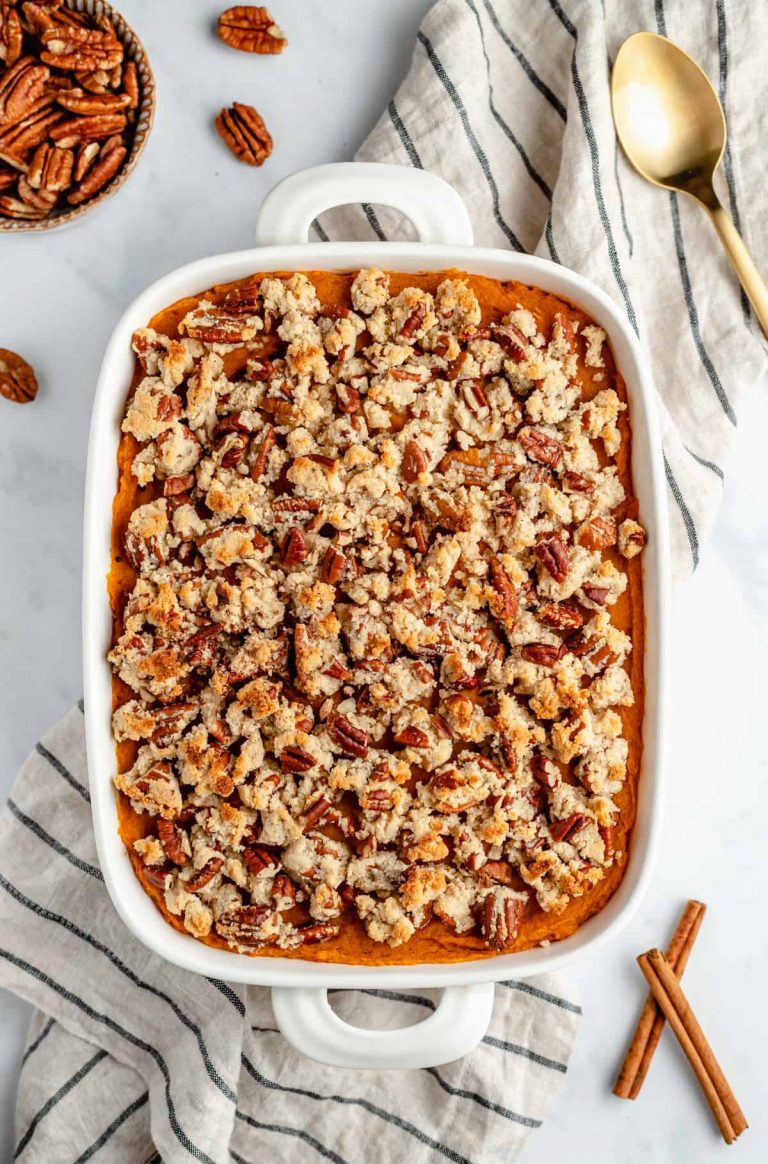 Vegan Sweet Potato Casserole with Maple Pecan Topping from Jessica in the Kitchen
Why We Love It: Instead of covering your sweet potato casserole with marshmallows, you have to try this recipe that tops the dish with chopped pecans and plenty of maple syrup. The nutty streusel-like topping makes the dish vegan but also adds a delicious flavor that perfectly complements the sweetness of the base. 
Hero Ingredient: The finished product of the crumble topping is good enough to eat by itself.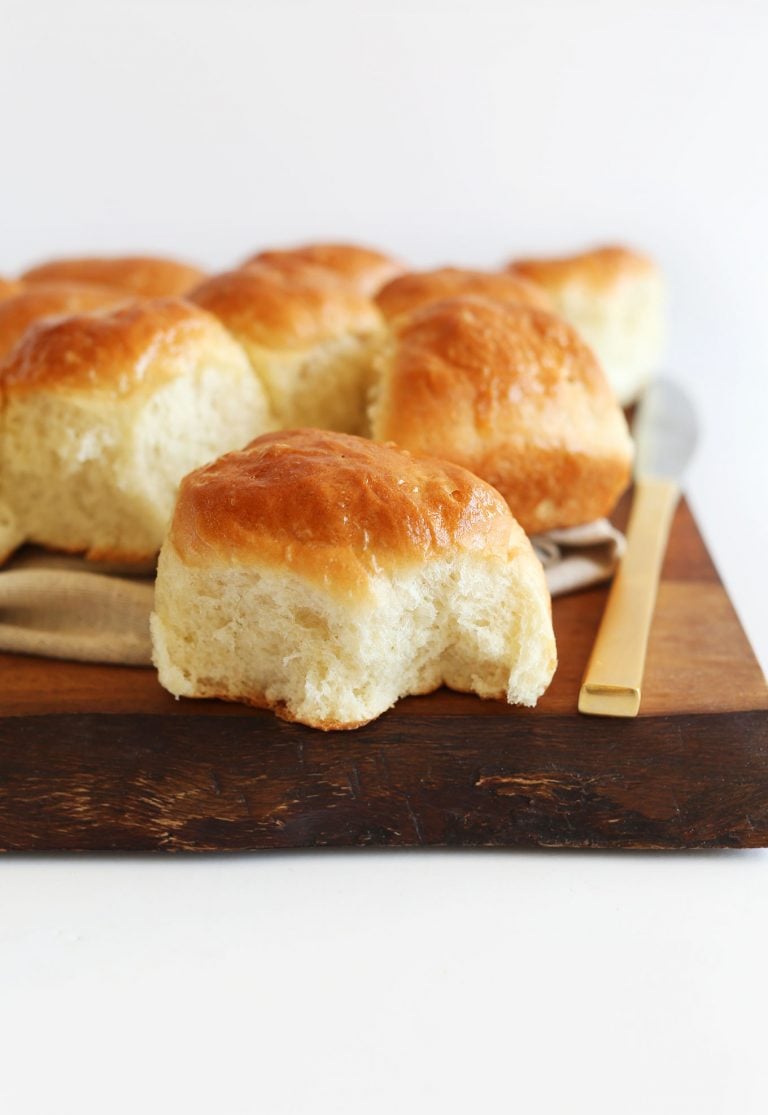 Simple Vegan Dinner Rolls from Minimalist Baker
Why We Love It: Have no fear, vegan dinner rolls are here. And they are only seven ingredients and easy to make. Rolls are one of my favorite parts of the meal, so I truly believe that no one should have to turn them down. This is one of the vegan Thanksgiving sides that is a real show-stopper. 
Hero Ingredient: The vegan butter melts in your mouth.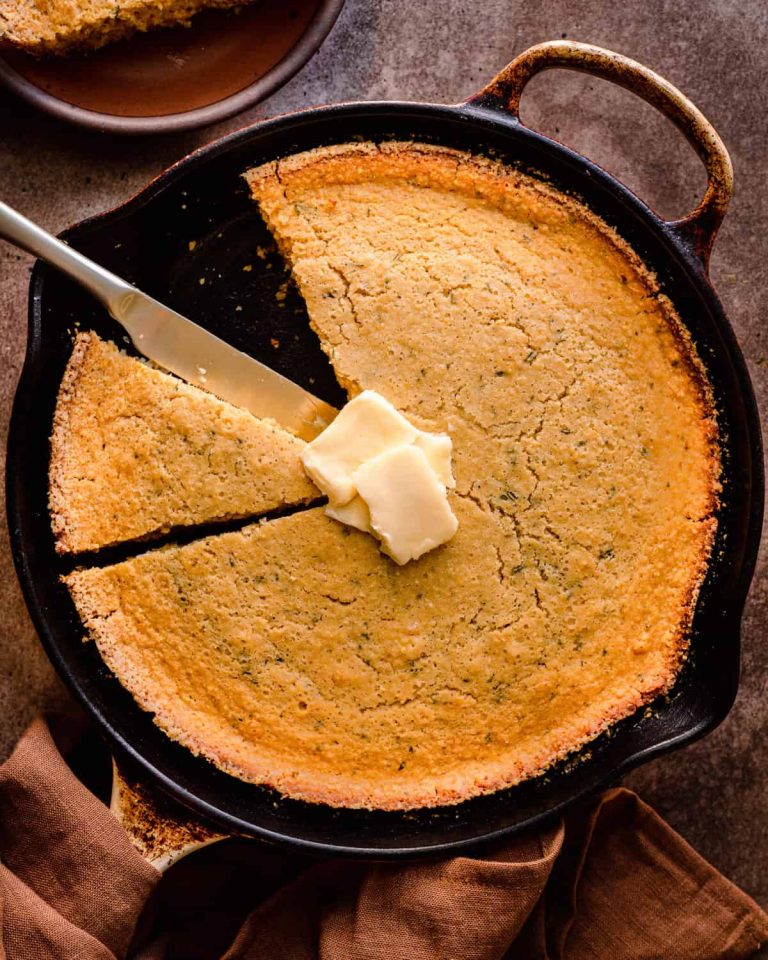 The Best Vegan Cornbread from Rainbow Plant Life
Why We Love It: I'm a huge fan of cornbread in the fall. This simple vegan recipe requires only 20 minutes of prep and pairs perfectly with everything from Thanksgiving dinner to a warm bowl of chili. It's also easily made gluten-free and refined sugar-free with just a few suggested swaps.
Hero Ingredient: What is cornbread without the yellow cornmeal?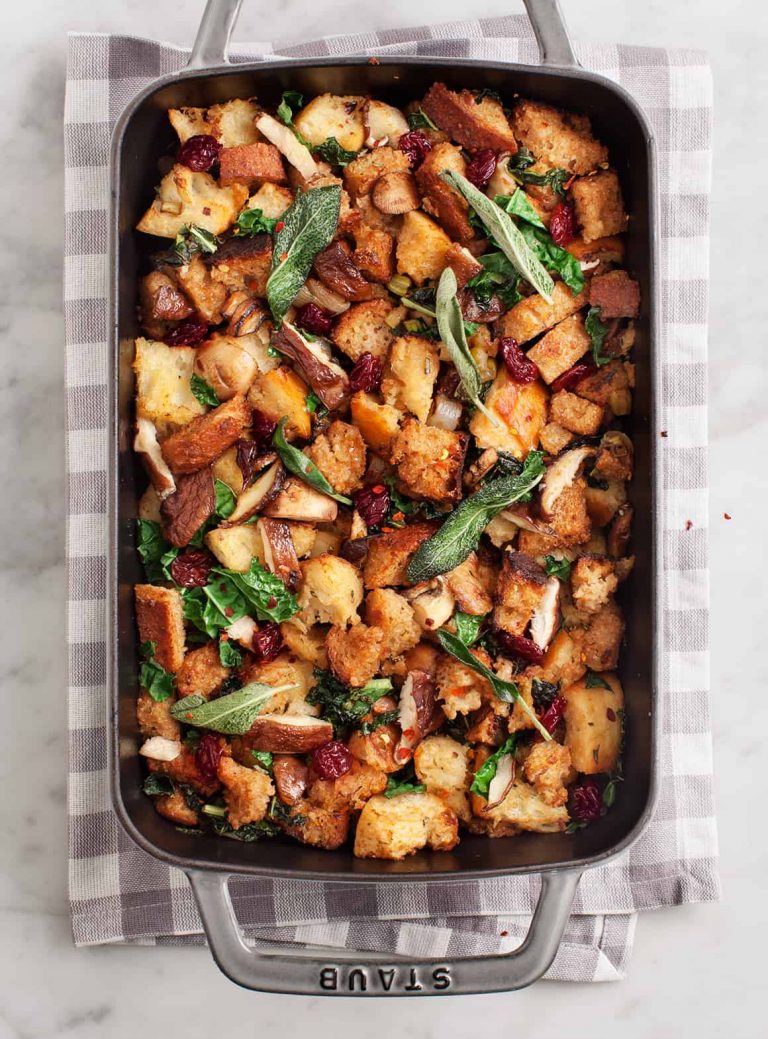 Vegan Stuffing from Love & Lemons
Why We Love It: Stuffing is essential at my Thanksgiving table, and I'm obsessed with this vegan take. Onions, celery, and sautéed mushrooms fill it with so much savory flavor. And while other stuffing recipes lean a little on the beige side, this recipe features kale, dried cranberries, and plenty of sage on top for a picture-worthy presentation.
Hero Ingredient: Sage is non-negotiable in stuffing.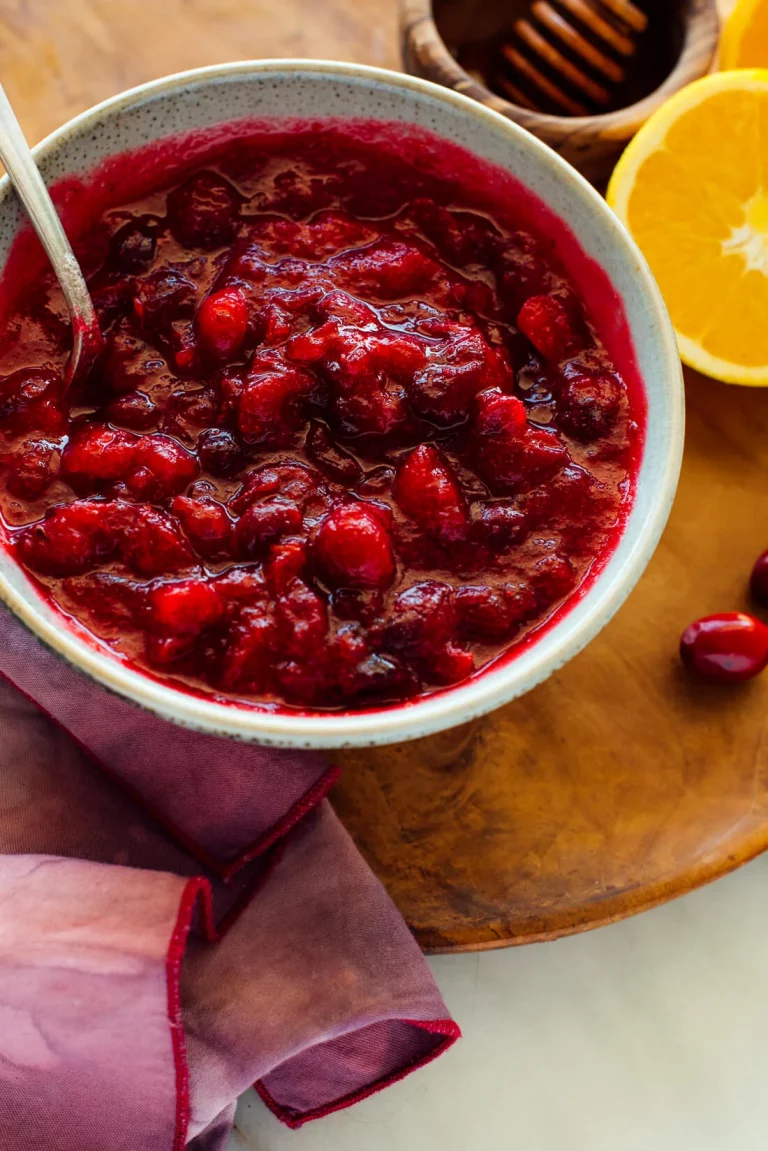 Naturally Sweetened Cranberry Sauce
Why We Love It: Homemade cranberry sauce has never been easier. This recipe is vegan, gluten-free, refined-sugar-free, and delicious. The orange, cinnamon, and maple syrup give this classic Thanksgiving side a unique twist that your guests will love.
Hero Ingredient: The orange zest really is the best.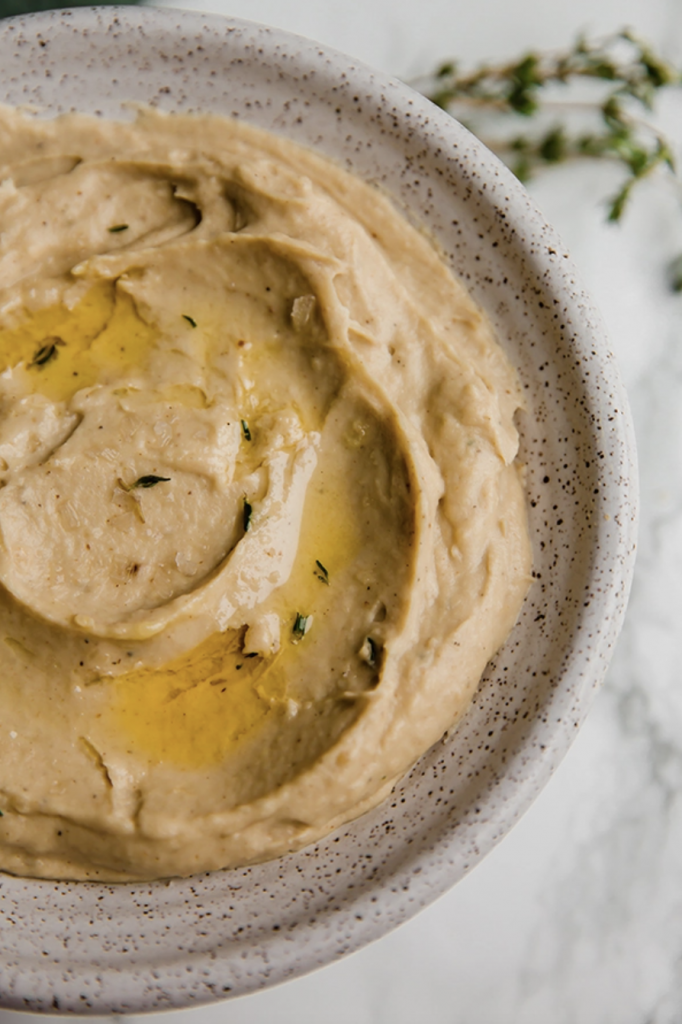 Roasted Cauliflower & Parsnip Mash from Unbound Wellness
Why We Love It: My mom made this recipe for Thanksgiving last year, and it's a new family favorite. The addition of parsnips to the classic mashed cauliflower gives it even more of the beloved potato flavor. It's also paleo and Whole-30. Be sure to substitute ghee for olive oil or coconut oil to be 100% vegan. 
Hero Ingredient: Parsnips give it both the texture and flavor of potatoes.