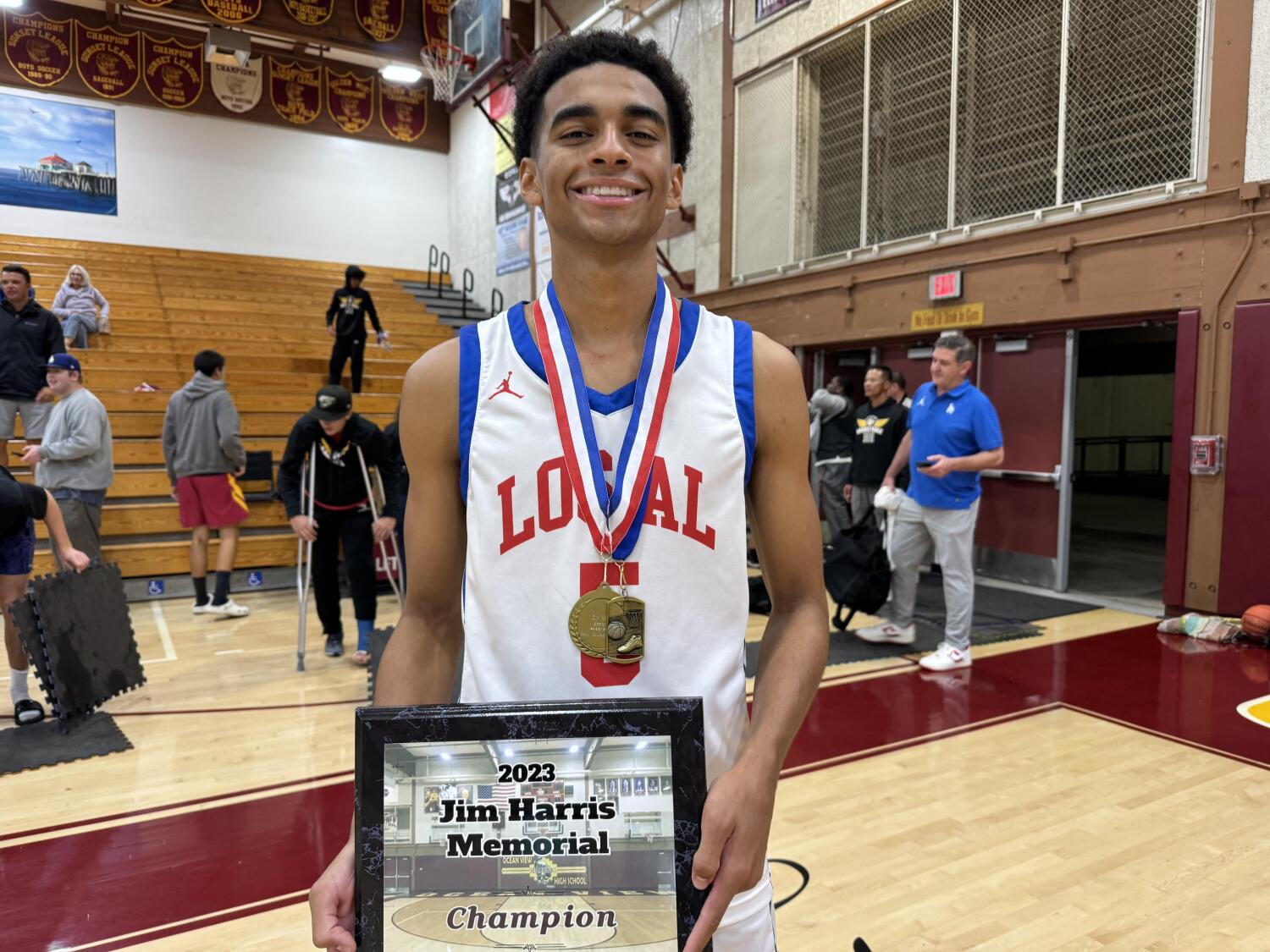 Serving notice that it intends to be in the conversation for top team in Orange County, Los Alamitos concluded its opening week of the high school basketball season by winning the Ocean View tournament championship with a 68-56 win over Mira Costa on Saturday night.
Tournament MVP Samori Guyness finished with 17 points and Wesley Trevino added 16 points. Los Alamitos (4-0) started the season ranked No. 14 in The Times' preseason rankings, with Mira Costa (3-1) at No. 12. The Mustangs made too many turnovers, which is part of Los Alamitos' specialty.
"Our style of play is make it as hectic as possible," coach Nate Berger said.
The Griffins are loaded with juniors who have been together since their freshman seasons. They're hoping to make major jumps each season so that by the time they are seniors, they can be very formidable.
"We trust each other," Guyness said.
Preston Ezewiro and Eneasi Piuleini each scored 13 points for Mira Costa.
St. John Bosco 71, Long Beach Poly 61: The No. 1-ranked Braves trailed at halftime but recovered to win their opener. Brandon McCoy scored 17 points and Elzie Harrington had 17.
Harvard-Westlake 83, Carlsbad 44: The Wolverines had no trouble routing one of the top teams from San Diego. Trent Perry scored 22 points and Robert Hinton 21.
Etiwanda 81, Campbell Hall 77: In a battle of top-25 teams, the Eagles received 27 points from Amare Campbell to win at Corona Centennial.
La Mirada 55, Damien 54: Julien Gomez made a game-winning basket with 12 seconds left to rally La Mirada in the championship of the Sunny Hills tournament.
Simi Valley 76, Lynwood 70: With Jason Crowe Jr. unavailable (illness), the Pioneers took advantage. Justin Rener scored 29 points in the win. Chace Holley had 27 points for Lynwood.
Windward 71, Country Day 50: Nasir Luna had 19 points for the 2-0 Wildcats.
Crespi 87, Saugus 68: Peyton White finished with 25 points for the 4-0 Celts.
Village Christian 80, Chatsworth 65: Deion Lewis scored 20 points and Sydney Natche added 18 points for Village Christian.
Viewpoint 64, Ventura 44: Coach JJ Prince picked up his 200th career victory. Aeneas Grullon had 19 points and 11 rebounds.
Valencia 59, Cabrillo 17: Bryce Bedgood scored 15 points and had six rebounds and six blocks for Valencia. Tanner Stradley added 11 points for the Vikings.
Chaminade 74, Silverado 45: Jonas Thurman contributed 21 points and Bryce Goldman 20 points for 2-0 Chaminade.
Cantwell-Sacred Heart 60, Taft 53: Noah Bamshad led Taft with 20 points.
Burroughs 73, University 42: Jacob Samontina had 15 points for 3-0 Burroughs.
Mayfair 81, Murrieta Valley 79: Deacon and Desman Botts finished with 20 and 18 points, respectively, in Mayfair's consolation championship win in the Ocean View tournament.
Orange Lutheran 75, Villa Park 54: Jaden Hubbard led Orange Lutheran with 30 points. Dakari Harris had 15 points for Villa Park.
Laguna Beach 57, Verdugo Hills 50: The Dons fell in the third-place game of the Ocean View tournament.
Crossroads 82, Crenshaw 66: EJ Vernon had 27 points and 10 rebounds, Coco Britt scored 24 points with eight assists and Aidan Croshere added 22 points and 10 rebounds for Crossroads.
Redondo Union 75, Foothill 51: Hudson Mayes and SJ Madison each led Redondo with 15 points. Danny Kennard had 19 points for Foothill.
Great Oak 74, King/Drew 72: Despite 21 points from Donald Thompson and 19 points apiece from Josahn Webster and Semaj Howard, King/Drew was beaten in overtime.
Sierra Canyon 79, Rancho Christian 50: The Trailblazers improved to 2-0 behind Bryce Cofield.
Girls' basketball
Sierra Canyon 72, Corona Santiago 52: The Trailblazers won the championship of the Harvard-Westlake tournament. Mackenly Randolph had 25 points.