Amazon is warning Prime customers of two types of scams ahead of the company's pre-Black Friday promotion, which starts Friday, Nov. 17.
The company says it has shut down almost 50,000 phishing websites this year, and email attachment schemes "have doubled" in the second half of 2023, per Moneywatch.
"The bad thing isn't opening the attachment," Scott Knapp, Amazon's director of worldwide buyer risk prevention, told CBS MoneyWatch. "It's clicking on the link in the attachment, which goes straight to their website, where they start collecting all kinds of information."
RELATED: Social Media Fraud Is On the Rise — And Even the Most Savvy Are Getting Scammed.
The communication can arrive as an email, text, or call, with the scammer posing as an Amazon customer service representative. These fake notifications warn of a suspended account without "taking action," usually by clicking a link, opening an attachment, or even asking for your login credentials.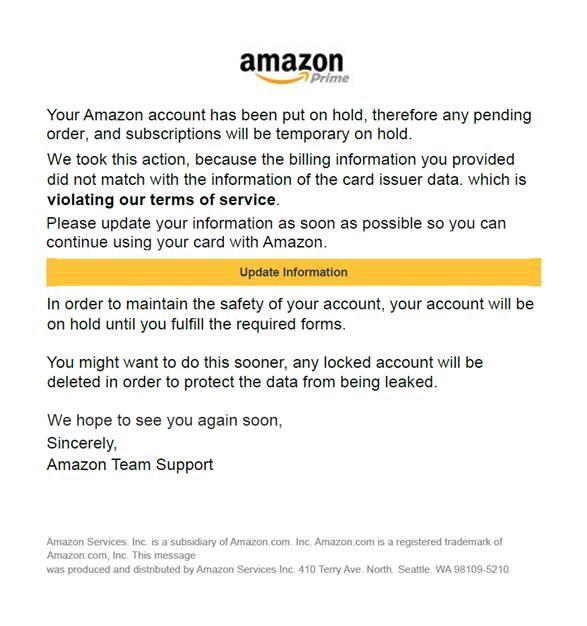 A sample scam email. Credit: Amazon.
Another growing scam is when they ask customers to confirm a big purchase (that you haven't made) and then steal your information in the process as you try to sort it out, the company warns.
RELATED: 'Bad Actor at the Hotel': Marriott Customer Warns Guests About a Scam They Think Could Be an Inside Job
A big red flag is when they start to ask for money or payment information over the phone or by email. That's something we would never do. We'd never ask for that," Knapp said, per CBS.
Amazon is urging customers to let them know of any fraud or scam attempts that are received.