Toyota unveiled its prototype hydrogen fuel cell electric Hilux at its UK vehicle plant in Derby, England.
The powertrain uses elements of the Toyota Mirai hydrogen fuel cell electric sedan – technology that has been proven and validated over almost 10 years of commercial production.
The project began early last year with a feasibility study undertaken by Toyota Manufacturing UK (TMUK) and Toyota Motor Europe and funding was provided by the UK Government through the Advanced Propulsion Centre, a nonprofit organization supporting the development of cleaner technologies and new mobility concepts.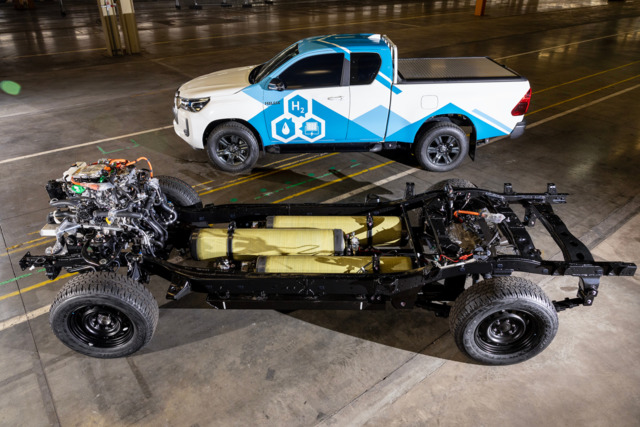 New hydrogen-powered Toyota Hilux at the company's Burnaston factory, Derbyshire.RKP Photography / Toyota Europe
An intense design and development program kicked off July 2022 and prototype construction began in June. The first vehicle was completed just three weeks later, the first of 10 that will be built by the end of this year. These will undergo rigorous testing to ensure safety, dynamic performance, functionality and durability meet the high standards required of a production model.
"The project team have accomplished an incredible job in a very short space of time, from creating the prototype build area to completion of the first vehicle," said Richard Kenworthy, TMUK Managing Director. The UK Government funding has enabled us not only to develop a new vehicle in record time, but also to upskill our teams to work on hydrogen-related technologies, something we hope to build on in the future. This is a great vote of confidence in UK manufacturing and its potential to deliver carbon-free vehicles to meet future targets."
Toyota said the project has helped stakeholders develop and apply new skills relating to fuel cell electrified vehicles and hydrogen system components. The consortium members have also all played key roles in the initial phase of the program.
Ricardo, a global strategic engineering and environmental consultancy specializing in the transport, energy and scarce resources sectors, has supported preparations for the prototype build, carrying out design and development tasks and confirming the complete manufacturing process in parallel with teams at Toyota. Ricardo will undertake complete evaluation of the vehicle over the coming months, prior to a decision on a potential production model being introduced in the second half of this decade.