The holidays are filled with countless magical moments. Throughout November and December, opportunities abound to connect with family, friends, and loved ones. But between the prep, presents, and playing host for two months straight, our efforts to stay balanced and aligned often fall by the wayside. Our answer? Prioritizing the "pause" in those moments between all the hectic, hurried tasks that demand so much of our time.
During this season when we often default to a fast-paced flow, slowing down and savoring that space between the busyness is the ultimate opportunity to recharge and and restore. And sure, we may have our morning routines on lock, but I'd argue that a nighttime wind-down is just as important—if not even more so.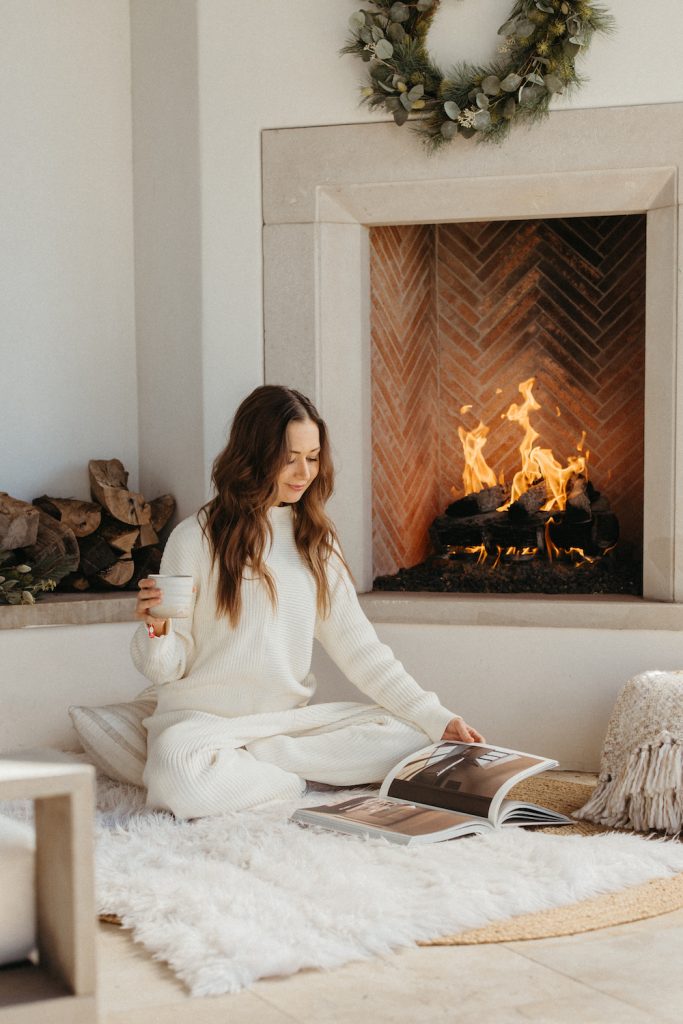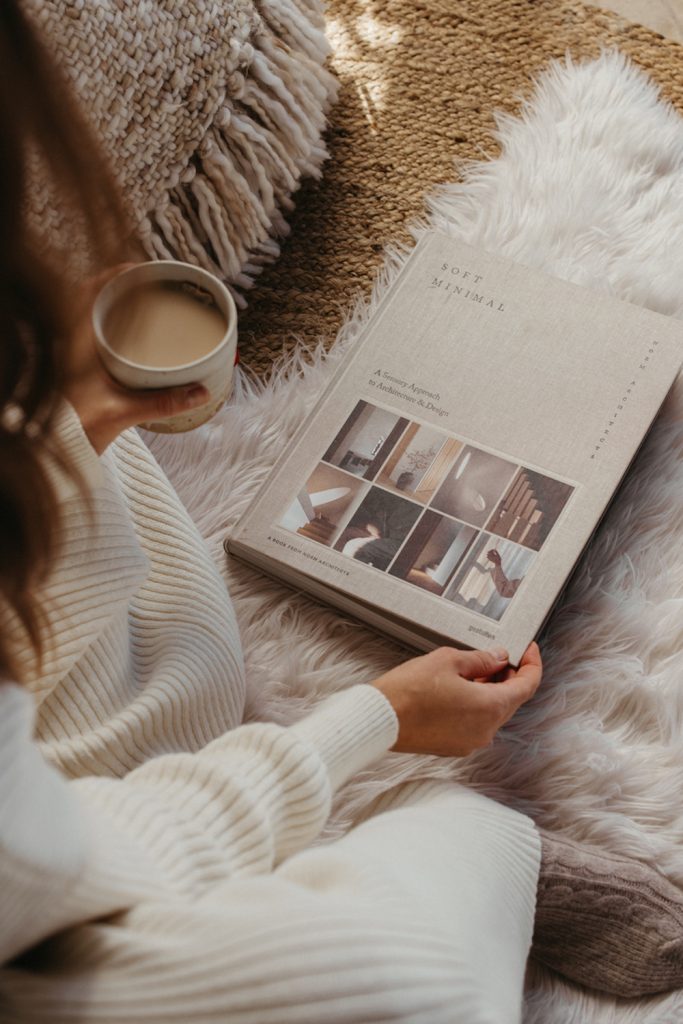 A Relaxing and Restorative Holiday Nighttime Routine
We teamed up with Haven Well Within to help you curate a holiday nighttime routine that supports you best. This year, rather than gritting our way through a packed to-do list, we're all about slowing down and embracing the calm. Because a joy-filled season is built on the small, but nourishing rituals that allow us to cultivate our inner peace amidst the busyness of it all.
But as we all know well, self-care routines can quickly become an over-the-top affair. (12-step skincare, an overwhelming gratitude practice—you get the gist.) In the spirit of simplifying, I'm sharing my holiday nighttime routine. My hope is that it inspires you to step away from your screens and embrace this truth: the holidays get to look and feel however you want. With that intention in mind, let's dive in to the evening habits that keep me feeling grounded and calm throughout the holiday season.
Every product is curated with care by our editors and we'll always give an honest opinion, whether gifted or purchased ourselves. If you buy something through our links, we may earn a small commission at no cost to you.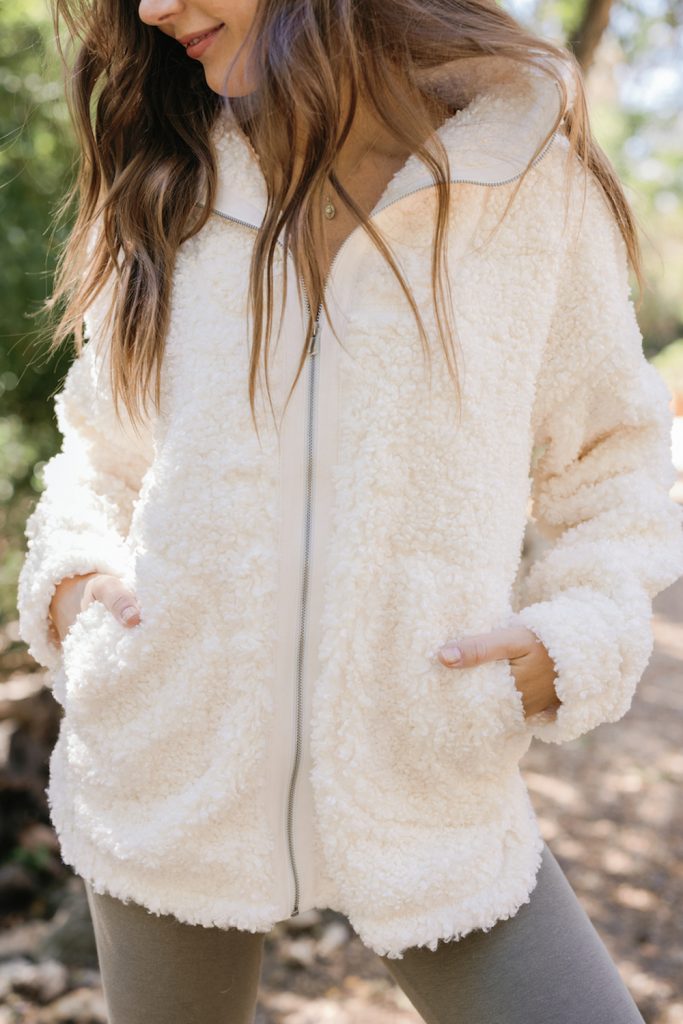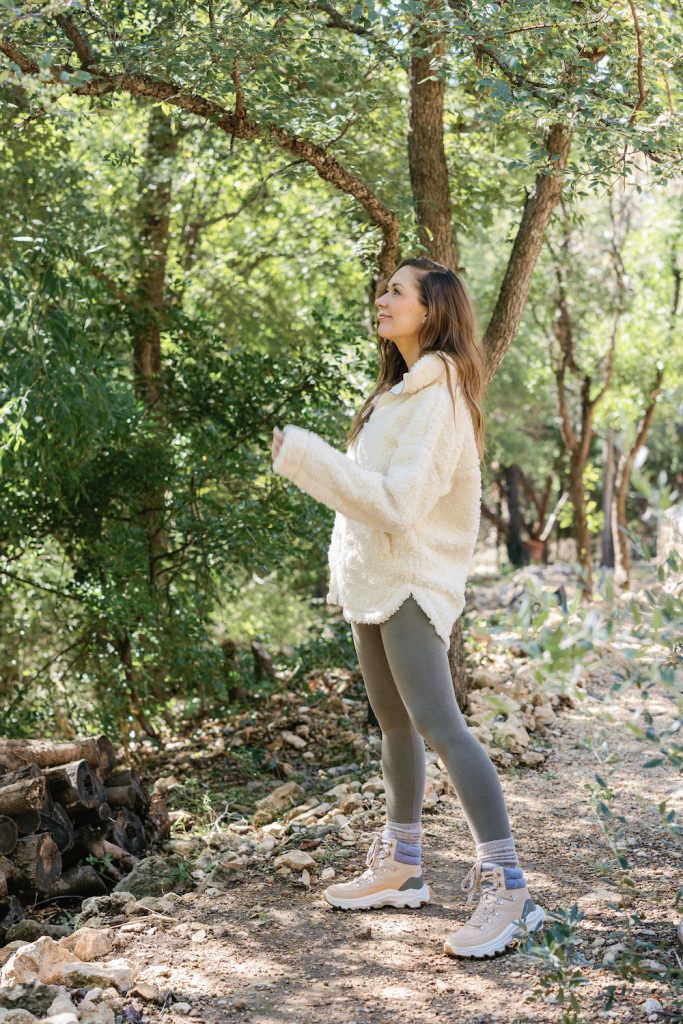 Take a Gratitude Walk
Think of this like the calm and serene older sister of the Hot Girl Walk. Sure, I love feeling inspired by a podcast or energized by music, but sometimes, a walk serves the purpose of helping me get quiet with myself and taking in the environment around me.
This is the perfect way to begin my holiday nighttime routine, as it helps me transition from a hectic workday to a restful evening. By taking a walk outside, you signify to your mind and body that you're stepping into a new part of your day. As you walk, reflect on what may have filled your day with gratitude. Perhaps it's your co-worker who always makes you laugh, or a particularly delicious lunch your partner prepped. Maybe it's your ability to take this walk at all, and the beautiful moment you get to soak up.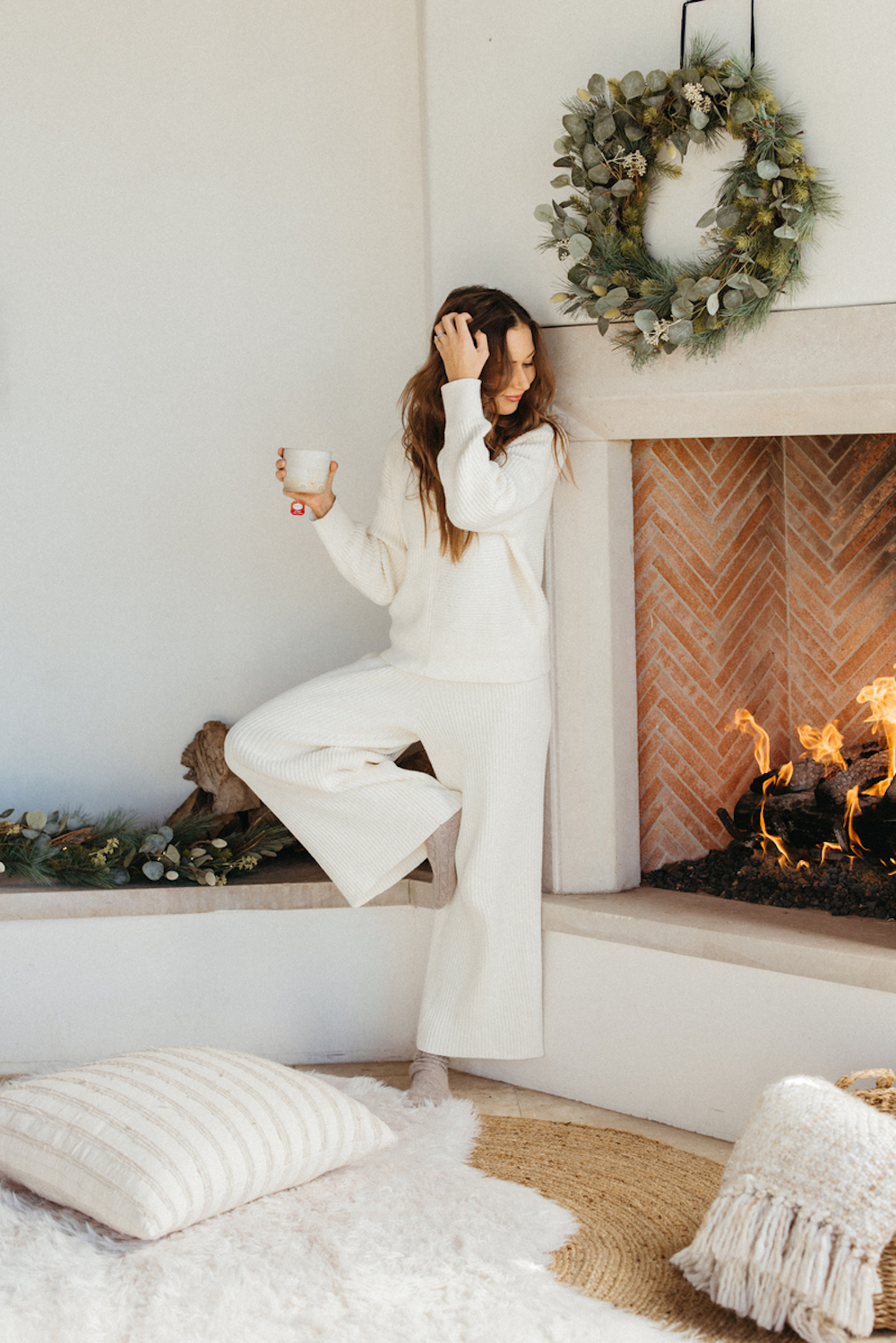 Cozy Up Your Wardrobe
When the temps drop, I want to be wrapped up in the softest, coziest pieces possible. (Of course, that means all my favorite Haven Well Within picks.) This is true all throughout the day, but there's nothing comfier than slipping into elevated sweats and socks that fit my chill vibe. And when cozy is the direction, we all know that can quickly turn into a college tee and leggings-we've-had-too-long ensemble.
My approach to loungewear is keeping the fit flattering and tailored while opting for materials like organic cotton and cashmere to ensure it stays as comfy as possible. To emphasize elegance, monochromatic looks are always an easy yes.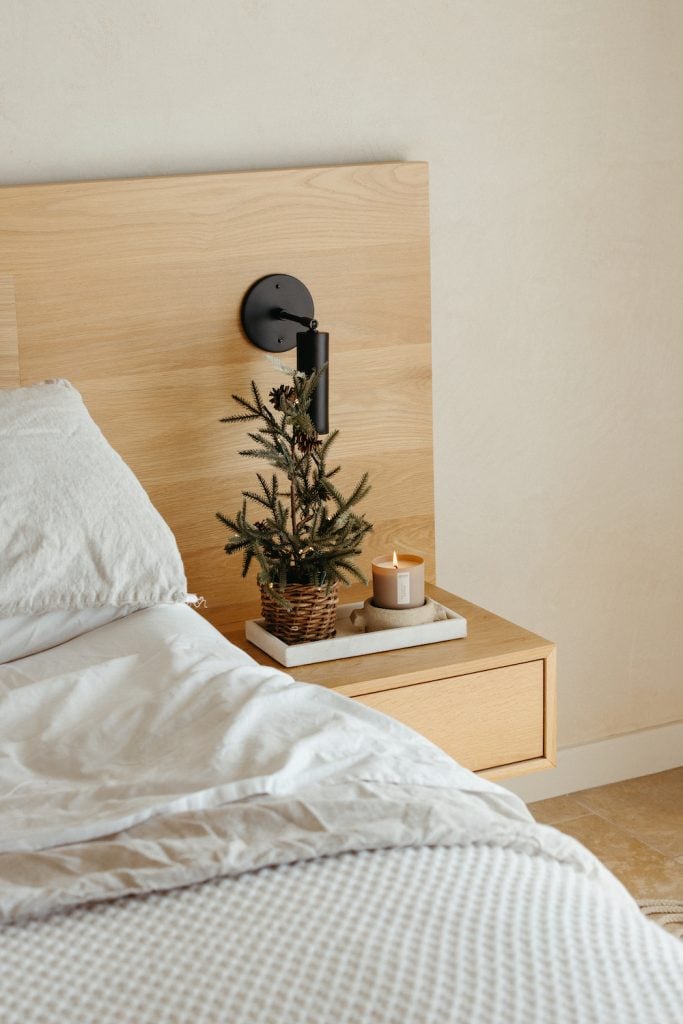 Light a Calming Fragrance
Candles are key in my holiday nighttime routine. I love those that evoke the scents of the season—vetiver, cedar, fir, and anything pine. And while I can appreciate vanilla, the fragrance can often lean too sweet and saccharine. I like to lean into candles that emphasize the natural turn of the season, and this Ember Candle does exactly that. There's also something so wonderfully ritualistic about lighting a candle before cozying up in bed with a cup of tea. For ambiance, a go-to candle is always a must.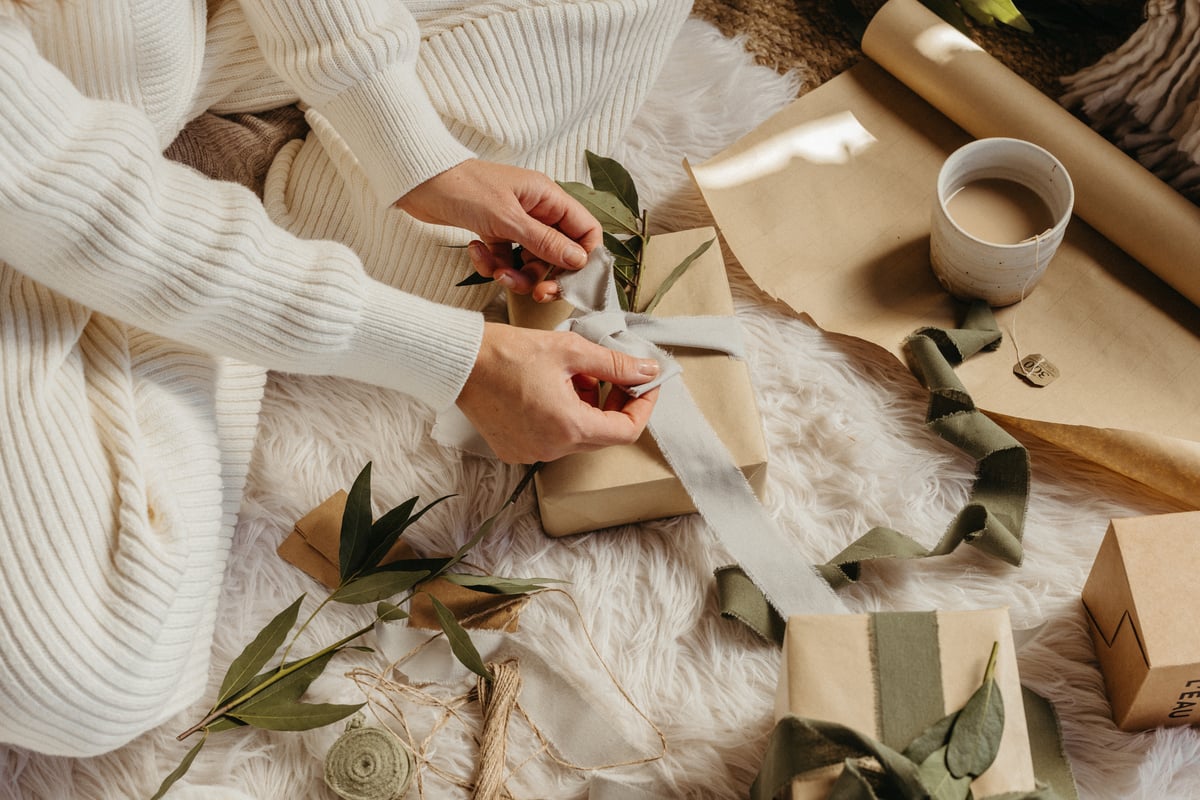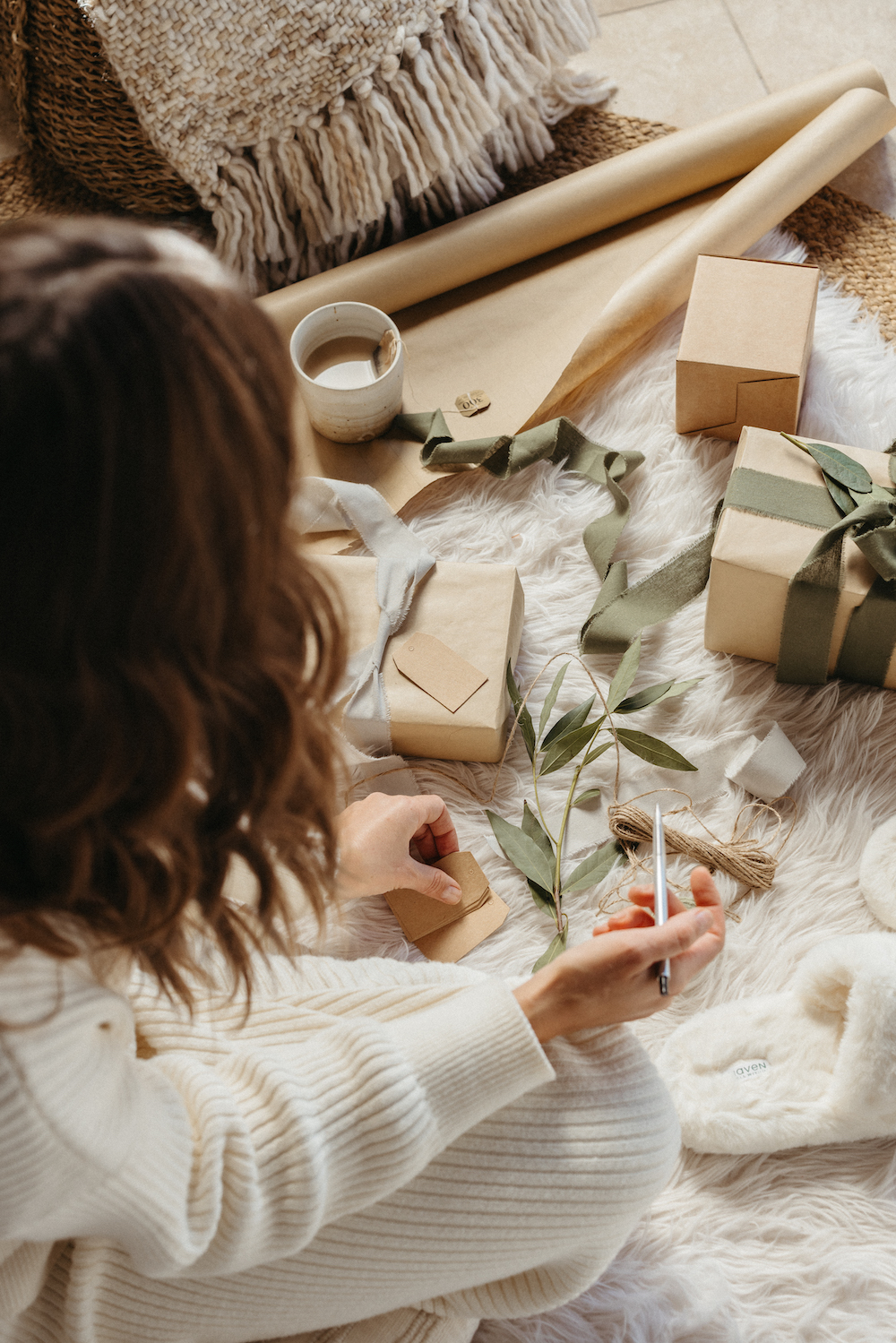 Wrap One Present
Gift wrapping can often be a source of stress during the holiday season. (Especially when you have a pile of presents to wrap up on Christmas Eve.) This year, I encourage you to take it one gift at a time—and to make the process as joyful as possible. Get your holiday gifting done early, and gather wrapping paper that makes you feel inspired and excited to bundle up every present. Light your candle, pour a little tea, and set the scene with a little holiday music. With only one present to wrap each night, it'll be a relaxing and restorative part of your holiday nighttime routine.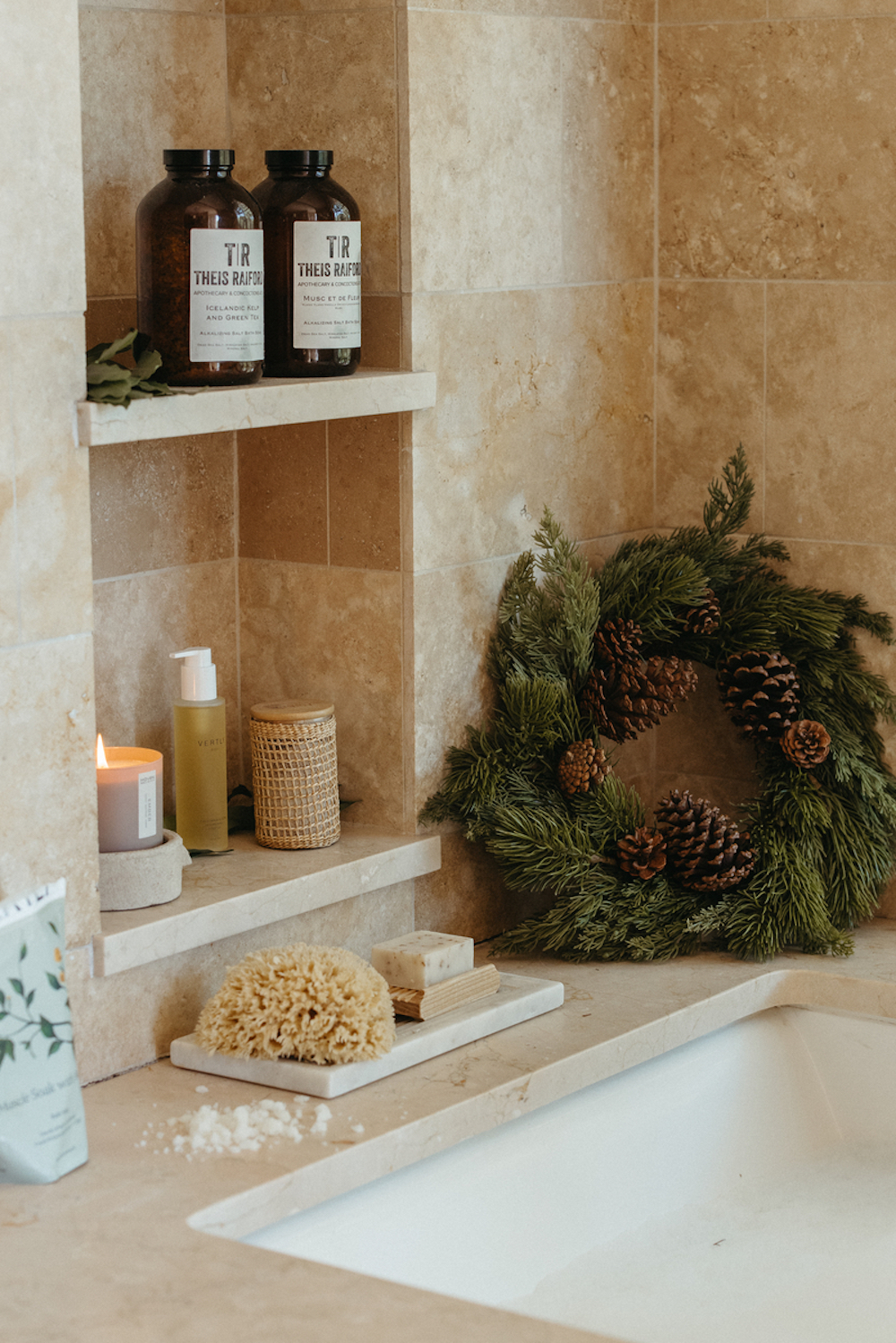 Soak in a Hot Bath
I'm a bath-taker—simple as that. For me, showers serve a functional purpose, but baths are a blissful ritual and an opportunity for self-care. While an everything shower keeps my hair clean and legs smooth, baths are more of a moment to soothe my soul. Again, candles are a must, and bath salts that blend CBD with magnesium and lavender are my secret to experiencing full-body relaxation. Sometimes, I'll bring my current read in with me. But I also love simply soaking away and enjoying this moment of relaxation and calm.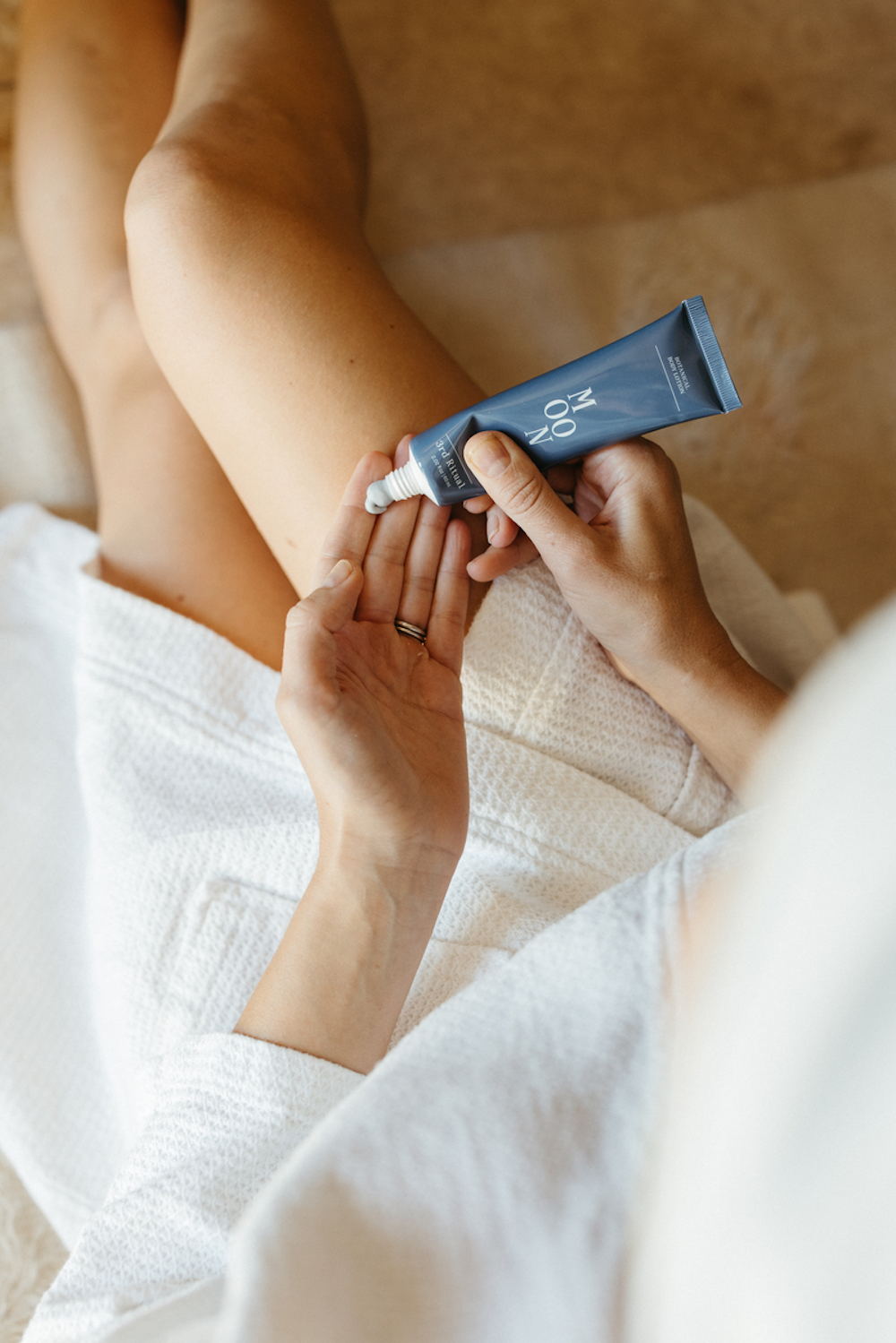 Nourish Your Skin, Head to Toe
Let's get real: is there anything better than slipping into clean sheets after moisturizing every inch of skin? It's not only one of my favorite parts of my holiday nighttime routine, but something I look forward to each day. After exfoliating and/or dry brushing, I replenish my skin by pairing a soothing body oil with an effective moisturizer. Particularly during the winter, when our skin is prone to dryness, lathering on the lotion and prioritizing products that offer deep hydration is a must. Nourishing ingredients like those featured in Vertly's California Bloom Body Oil (hi—calendula flower, chamomile, sweet almond oil, and olive squalane), keep my skin happy all throughout the day. That's the power of a restorative nighttime routine.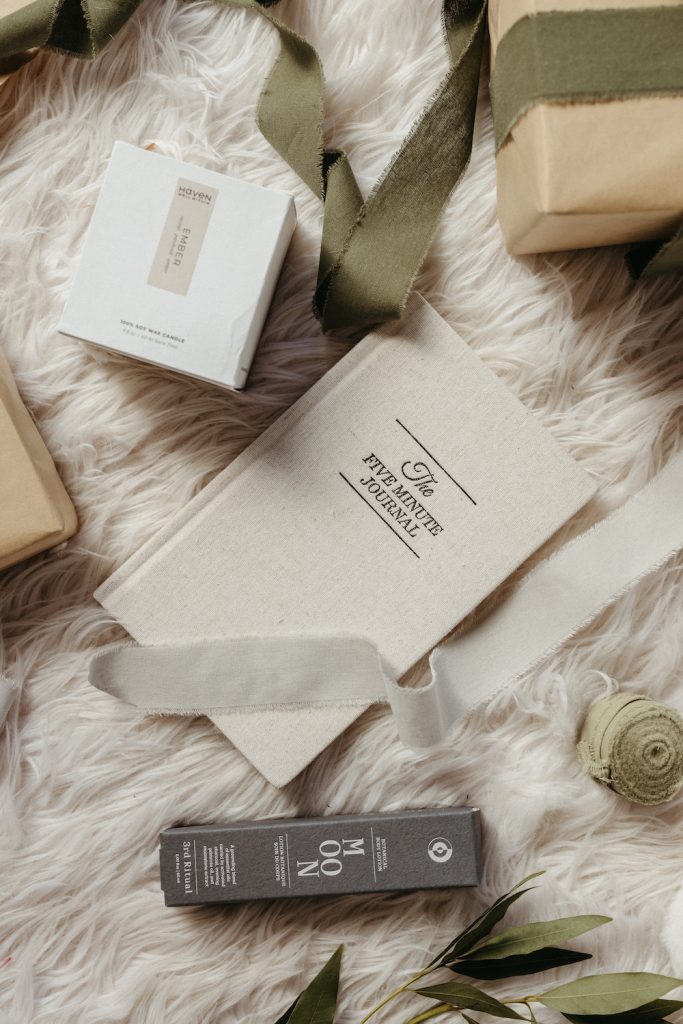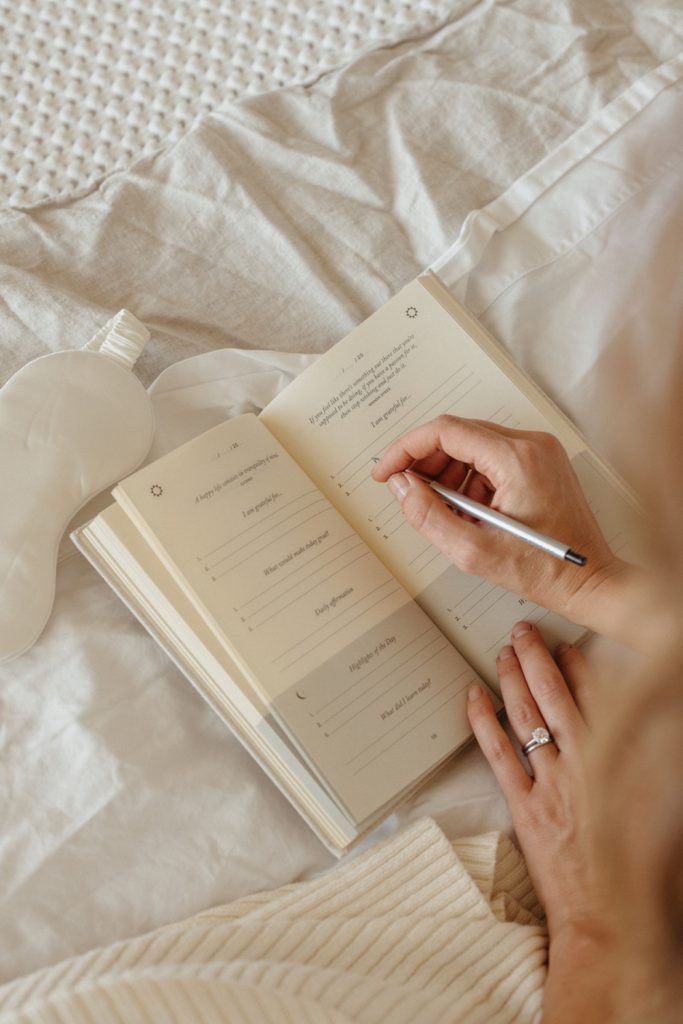 Make Bedtime a Ritual
A calming, soul-nourishing one at that. All throughout your holiday nighttime routine, the goal is to help you transition from the frenzied busyness of your workday to a serene state before falling asleep. When my insomnia was particularly bad, I made the mistake of watching a cortisol-boosting movie before getting into bed. Not ideal. Nowadays, I protect my bedtime at all costs, ensuring all screens are off well before my bedtime—usually an hour before falling asleep.
After I put on my pajamas and lit my bedside candle (I'm sure you can sense a pattern here… ) I love getting cozy with a book. And though I love a good, fast-paced narrative, I tend to reserve my evening reading for self-help books only. That way, I feel inspired, but I'm not caught up in an action-packed plot. And while reading may not happen every night, I'm adamant about jotting down my thoughts and reflecting on the day in my guided journal. Though I've committed to a journaling ritual for years, I've found that the Five-Minute Journal is an easy, accessible way to fall in love with the practice.
From there, I put on a silk eye mask—one that both blocks out light and provides a nice weight on my face. My silk pillowcases are also a nice touch of luxury that keeps my hair frizz-free and any wrinkles at bay. Trust me, they're worth the hype.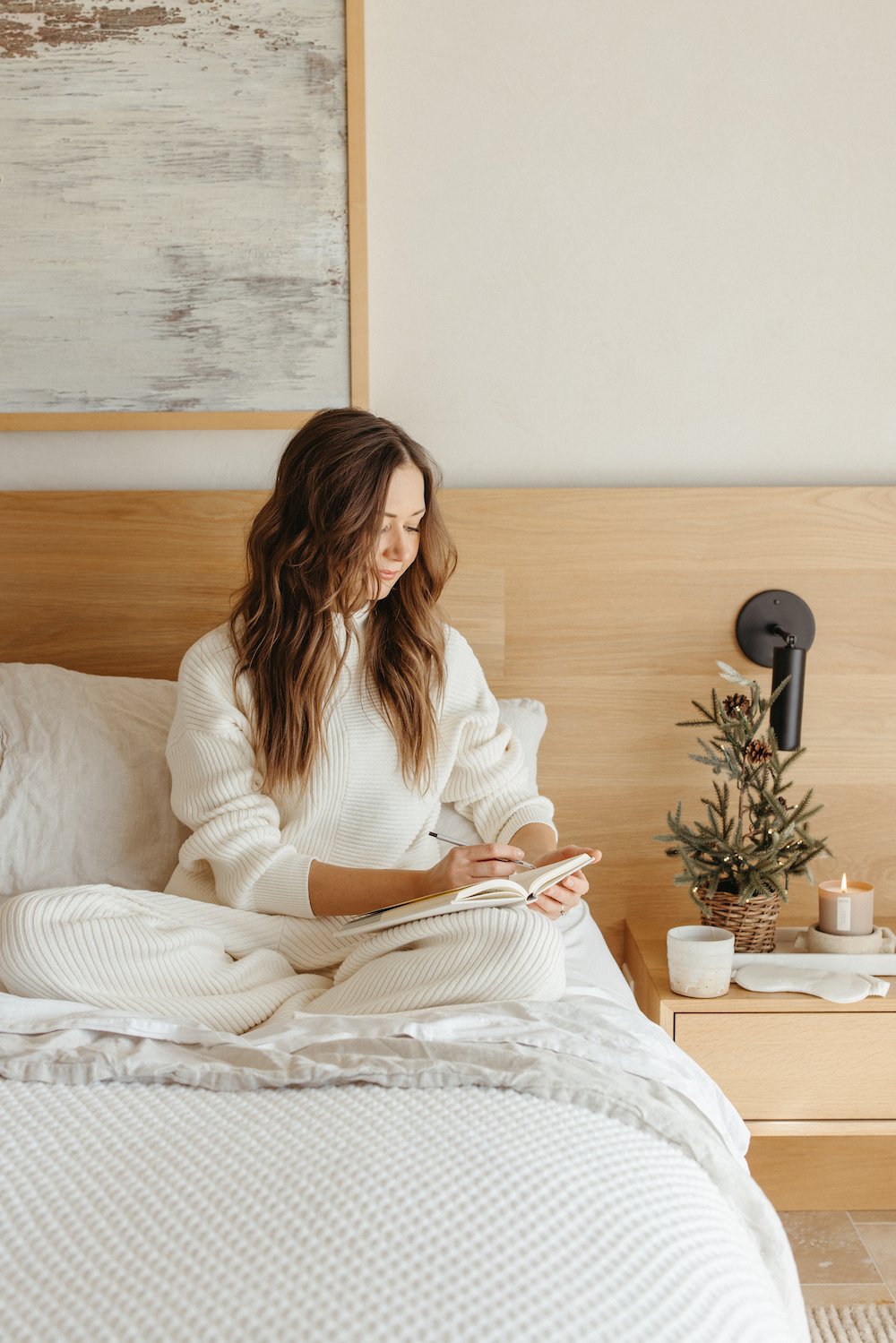 Final Thoughts
A holiday nighttime routine should focus on quiet and simplicity. While we're all for dropping the rules when it comes to celebrating this special time of year, we also acknowledge that carving out space to slow down and savor these treasured moments is so important. And yes, that applies to the parties with friends and evenings at the dinner table with family, but it also calls you to prioritize the time you spend alone. Remember: during this busy season when we give so much to others, know there's importance—and really, a need—to connect with yourself.